Roland SH-1000 & SH-2000
Here is a patch sheet for Roland's very first synthesizer, the SH-1000 from 1973 and its follow up, the SH-2000.
| | |
| --- | --- |
| | |
| SH-1000 | SH-2000 |
| | |
Roland Smaller SH-Series Synths
Roland's smaller SH-series synths including the SH-1, SH-2, SH-3a, SH-09 and SH-101. The panel of the relatively rare SH-3 was identical to the later SH-3A, the only change was internal in the filter design. If you have an SH-3 you can use the 3A patch sheet below, but if you really want one with the right name add a note in the message to buyer field in PayPal and I'll provide it.
Roland Larger SH-Series Synths
Here are patch sheets for the Roland SH-5 (1976) and SH-7 (1978).
NB: These are large, A3 format.
SH-5
SH-7
Roland Juno Series
Of all the members of the mighty Juno line only the Juno 6, first released in 1982, did not have patch memory. Below you can find a patch sheet for your Juno 6, but I have also included patch sheets for the Juno 60 and Juno 106 by special request.
Roland Ensemble Synths
Patch sheets for Roland's smaller Organ/String synths, the RS-09 and SA-09 (Saturn). Two versions of the RS-09 were produced, the first matching the older styling of the early SH series, while the version 2 was updated to match the styling of the later Roland products with pushbuttons instead of rocker switches. Both versions are provided below.
Each patch sheet provides space for two patches per page.
Roland Compuphonics
Roland's Compuphonic synthesizers brought microprocessor control to analog synthesis. Released in the late '70s they were used by artists ranging from Depeche Mode to Vangelis. Here by special request are patch sheets for the dual VCO (monophonic) Promars MRS-2, and its larger cousin the 4-voice Jupiter 4.
| | |
| --- | --- |
| | |
| Promars | Jupiter 4 |
| | |
Roland System 100
Patch sheets are provided here for the Model 101 alone, the main keyboard component of the System 100, or one with the both the 101 and 102 expander module. If you would like to have a patch sheet including any of the other components of the system, such as the 104 sequencer, please email me.
| | |
| --- | --- |
| | |
| Model 101 | Model 101 & Model 102 |
| | |
Roland PG-200 Programmer
This handy unit was a tactile programmer for instruments such as the JX-3P. Even though the synths it was designed for had program storage, I am including a patch sheet for the separate programmer by special request.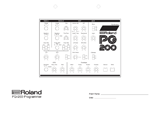 PG-200 Programmer
Roland System 100M
Roland's second modular system. Here is a patch sheet for the most common 'D' set, with the 112, 121, 130, 140 and 150 modules. I have all modules ready to prepare a custom patch sheet to match any system, large or small, including all the rare modules. If you would like a patch sheet for your System 100M modular setup just drop me a mail. Cost will depend on size, but will be similar to other pricing you see on this website.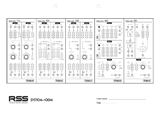 100M "D"-set
Roland System 700
Below is a patch sheet for the smaller Lab system. The Lab system shown here has the 703D VCF, but if yours has the 703G or any other variant, let me know and I'll swap it out for you. I have all of the blocks of the full system ready to put together a patch sheet for your instrument. Just let me know what you require. But beware, this is a BIG system and won't fit nicely on one page!
NB: This is large, A3 format.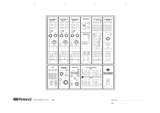 System 700 Lab
Roland Guitar Synths
By special request I am including here a patch sheet for Roland's rare, and very first, guitar synth, the GR-500. Select from either a version with the controller or one without (synth only).
| | |
| --- | --- |
| | |
| GR-500 Synth Only | GR-500 plus Controller |
| | |
Roland Rack effects
See the dedicated Roland Rack Effects Units page for items from both the 1979 Rack Series and the Roland Studio System (RSS) series of effects and signal processors. Provided here by special request.
Other Roland models
If you don't see your Roland instrument listed here or would like a variation not shown, drop me a request via email and I'll try to deliver.