Synton Syrinx
The only difference between one model of Syrinx and the next was the colour, the distinctive bright aluminimum panels made this synth stand out in a crowd.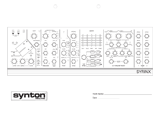 Synton Syrinx
Synton 3000 Modular System
I am able to provide patch sheets for the 3000-series modular systems from Synton. Please mail me with your configuration and I'll provide a quote. Pricing will be similar to other systems on this site.
EMAIL
Synton 3000 Modular