Buchla Music Easel
Here are patch sheets for both the original Music Easel from 1973, and the newer Easel. For the newer Easel, you can choose one with either the 218 or 218e touch controller. The only difference between the two is the logo.
| | | |
| --- | --- | --- |
| | | |
| Original 1973 Easel | New Easel with 218 | New Easel with 218e |
| | | |
Buchla 100
The original Buchla modular system. I can provide the complete range of modules, excluding some of the most rare from the earliest catalogue. Email me with your configuration and I'll provide a quote.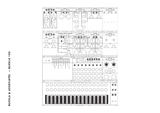 Buchla 100
Buchla 200
The Buchla 200 modules underwent a slight change of design in the mid-seventies, adding new knobs and introducing some new modules. A complete range of modules across the entire catalogue is available, so please email me with your configuration and I'd be happy to put together a patch sheet for your system.
| | |
| --- | --- |
| | |
| Buchla 200 Early | Buchla 200 Late |
Other Buchla products
If you are after something other than what is presented on this page, please drop me a line to let me know what you require. I can't promise to deliver, but if the request is reasonable and doable I'd be very happy to consider it.