Korg Mono/Poly and Polysix
Korg's wonderful 4-VCO Mono/Poly synth from 1981, and its sibling the Polysix.
Even though the Polysix had patch memory and tape backup, I am including the patch sheet here by special request. After all, who wants to be fiddling with audio cassettes in this day and age?
| | |
| --- | --- |
| | |
| Mono/Poly | Polysix |
| | |
Korg MS-Series
Here are the three major members of the Korg MS-Series — MS-10, MS-20 and MS-50. I've also now added the signal processor boxes MS-02 and MS-03 by request. If you're looking for a patch sheet for something else not shown here, please drop me a line.
| | | | | |
| --- | --- | --- | --- | --- |
| | | | | |
| MS-10 | MS-20 | MS-50 | MS-02 | MS-03 |
| | | | | |
Korg MS-20m
Korg briefly reissued the legendary MS-20 as a build-your-own desktop module. With additional patch points for V/Oct CV as well as the Korg standard Hz/V, and switches to choose filter type, oscillator sync, and frequency modulation, the MS-20m was a beast that is arguably better than the original. A limited production run means these are now hard to get hold of, and command prices equal to or exceeding their vintage progenitors. If you're lucky enough to own one, here's a patch sheet for you.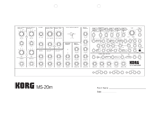 MS-20m Module
Korg MiniKog 700/700S
Korg's early "mini" monosynth, both the original 700 and the later 700S. The patch sheet for the 700 includes room for recording two patches on the one sheet.
| | |
| --- | --- |
| | |
| MiniKorg 700 | MiniKorg 700S |
| | |
Korg MaxiKorg 800-DV
Korg's Dual-voice monster, two 700S monosynths in one. These were released originally with the Univox MaxiKorg label, then later as part of Korg's own stable of instruments with the "Synthesizer Korg" label. Patch sheets for both are provided here so you may choose the one that matches your instrument.
| | |
| --- | --- |
| | |
| Univox MaxiKorg 800DV | Korg Synthesizer 800DV |
| | |
Korg Micro-Preset M-500/M-500SP
The "micro-preset" was originally released as the M-500 in 1977. A later version, the M-500SP had a small in-built speaker. Since the differences in the panels were only cosmetic (the sections on the SP had filled colours while the standard model had white outlines), one patch sheet here suits both models.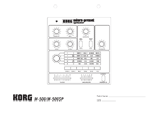 Micro-Preset M-500/M-500SP
Korg 770
The early (1976) dual-oscillator, dual-LFO, dual-filter monosynth from Korg. A relatively scarce beast, with patch sheets even rarer. Provided here are two versions, one for instruments labeled "Korg 770" and another for instruments labeled "Synthesizer Korg" on the front panel.
| | |
| --- | --- |
| | |
| Korg 770 Label | Synthesizer Korg Label |
| | |
Korg Preset 900PS
Korg's 27-key preset synthesizer from 1975.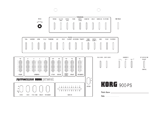 Korg 900PS
Korg Ensemble Synths
Korg's Greek letter Organ, String & Brass synths—the Delta, Lambda and Sigma. These patch sheets are delivered in A4 format, but may be easier to use if scaled up (especially the Sigma and Lambda). If you would prefer an A3 version, please let me know in the "note to seller" field at time of purchase.
| | | |
| --- | --- | --- |
| | | |
| Korg Delta DL-50 | Korg Lambda ES-50 | Korg Sigma KP-30 |
| | | |
Korg X-911
Korg's MS-era Guitar Synth simply took a standard 1/4" instrument input. No dedicated controller required. This patch sheet shows all patch points, both front and back, to allow you to record your unique setup.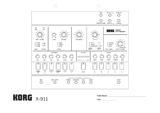 Korg X-911
Korg's Arp Odyssey Clone
The Odyssey from Korg is a faithful reproduction of the original classic from Arp. Here is a patch sheet for the Rev. 1 Arp Odyssey module. It has the additional filter and drive switches, as well as the Proportional Pitch Control and a few other additions. This is here by special request. If you would really like to have one for your Rev. 3 module, then please get in touch.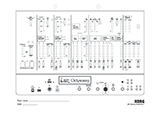 Korg Arp Odyssey Rev 1
Korg PS-Series
The groundbreaking true-polyphonic synth series from Korg. While the PS-3200 did in fact have patch memory, I have provided a patch sheet here for it simply to complete the set.
NB: These are large, A3 format.
Other Korg Models
If you own a vintage Korg you'd like a patch sheet for but don't see your instrument listed here, please get in touch. I am always happy to consider requests.